Biography
Contact: post@oslosessionrecordings.com
Norwegian singer, songwriter and composer Marte Røyeng's debut as an album artist comes with «Reach», which will be released on 24 May 2019 (Oslo Session Recordings). Produced by Even Ormestad, the album was recorded in Albatross Recorders, Oslo, and in the analogue atmosphere of Athletic Sound in the town of Halden, Norway.
Almost ten years have passed since Røyeng first showed her songs to other people, meanwhile she has developed a distinctive singer/songwriter concept, drawing on a myriad of musical and textual influences, with a highly personal approach to writing pop songs.
To create something unique out of what you cherish in other people's music, what is needed is both patience to dig deep into the familiar, as well as an urge to risk the unknown. «Reach» gives the listener a solid indication of the wealth of discoveries and changes of musical paths that has shaped Marte Røyeng on her way to the final result that is «Reach».
From a childhood in the back seat of the family van with James Taylor and Mozart on the car stereo, to her teens harvesting inspiration from Sondre Lerche, Joni Mitchell and Supertramp, on to a fascination for the hauntingly personal yet universally poetic songs of Fiona Apple and Blake Mills, then over to the classicist chamber pop of Rufus Wainwright and Gabriel Kahane, into exploring the experimental neo-folk of Aoife O'Donovan, Punch Brothers and Jesca Hoop; Along this course lies hundreds of musical pit stops that have shaped Marte Røyeng to such an extent that she could eventually decide to put out a record of her own into the world. 
Where is the common thread? Maybe it can be found in Marte's fondness for artists who dare to develop unexpected sides of their own eclectic musicality, and in the admiration for those who bend styles that is well-known into new shapes. The fact that she has collaborated for years with musicians across genres – jazz, blues, folk, classical – can be traced back to this preference. 
Currently Marte is studying the techniques of contemporary music (she is in fact two years into the Compositional Programme at the Norwegian Academy of Music), searching for extended palettes of sounds to draw from. 
It does not seem at all coincidental that Marte Røyeng's first album has been titled «Reach». On the album there are frequent references to climbing, moving upwards, gaining oversight and sensing your own expansiveness, in a place where the world outside for a moment stands still, and everything inside you is set in motion. 
«Reach» was created from this place, by someone who, patiently and meticulously, has been getting ready to send her own music out into the world.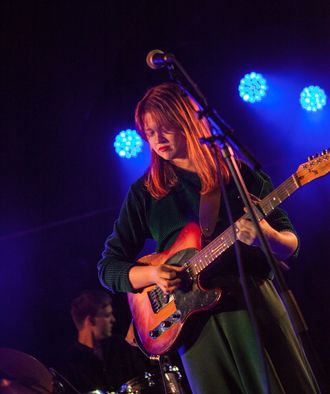 Marte Røyeng (b. 1990) is a singer-songwriter and composer hailing from the Norwegian harbour town Horten. Her album debut «REACH» was released in May 2019 by Oslo Session Recordings. The album is produced by Even Ormestad, and recorded in Albatross Recorders and Athletic Sound.